N-1 STUFFED "MODUCT MFG. CO." (KHAKI)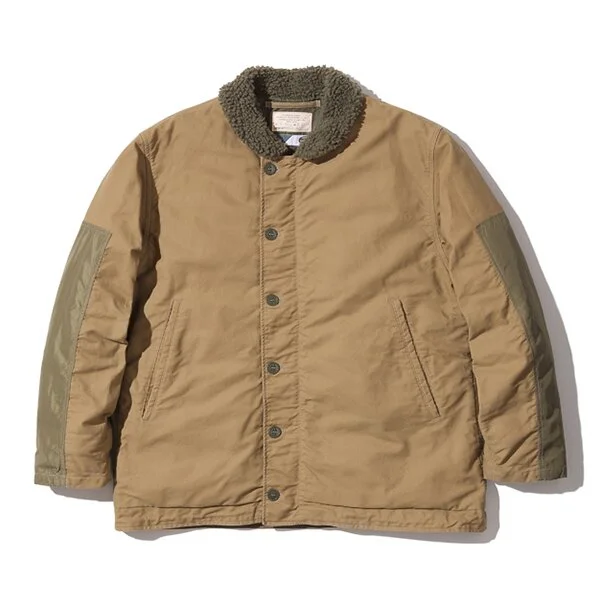 N-1 STUFFED "MODUCT MFG. CO." (KHAKI)
The N-1 Deck jacket is made from extra durable cotton ottoman called "jungle cloth" fabrics. The lining is made from alpaca wool. It's a simple military style jacket and extra warm for the cold season.
100% cotton
Lining Alpaca and wool pile
Zip closer and concealed button placket
Waist drawstring
Made in Japan
Type N-1 KHAKI "NAVY DEPARTMENT"
This jacket, called N-1, was adopted by the US Navy's ship crew from World War II to the Korean War as a set with the Trausers of the same material. Like other deck jackets, cotton grosgrain, usually called "jungle cloth," is used for the front material, and alpaca mohair wool pile, which has excellent wind insulation and heat retention, is used for the lining. The N-1 navy blue model was adopted in 1944, and the khaki model was provided in 1945. The changes are not only the color, but also the omission of the alpaca mohair sewn on the inside of the cuffs, the simplification of the loop attached to the lining armpit and hem cord, the enlargement of the hem cord eyelet, and the armpit eyelet. It shows a remarkable difference in position.